I'm stuck on making diapers. There are a few reasons why. The first and main reason is that my youngest needs diapers. So, I'm making them. Fair enough, right? Secondly, it is that I'm sick of them not turning out perfect. So, I make more to try to get them better. Third, and dumbest reason ever, is that I'm too intimidated to try other things yet. Hush. I just started sewing a couple weeks ago (unless you count from the time I made the burp cloths, in which case it was *gulp* almost a year ago).
So...I made another diaper. And this is my favorite one I've made so far. Cotton outer. It is kind of stiff, but I'm hoping it'll get softer as the little one uses it and I wash it. I got it for $8/yard at IKEA. They do have some other fabric that is softer and more like quilting fabric, but not much.
This is from the heiny view. Of course, it will be covered up with an ugly cover... *sigh*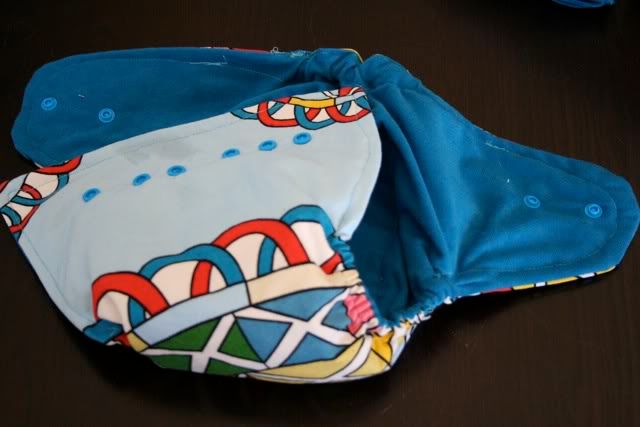 That is a turquoise-ish blue suedecloth (Alova Suede for $2.95/yard at Wal-Mart) on the inside. It is really soft.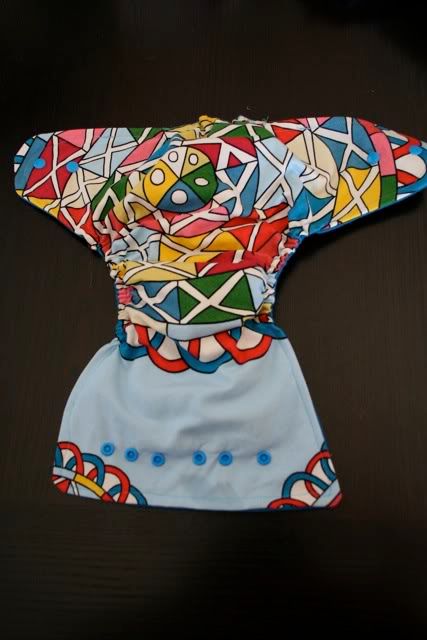 And the whole diaper laid out. See the snaps? Those are courtesy of my new snap press from
Oh Snap USA
. I definitely recommend their snap presses and snaps. It is the kam snap press, but it is much less than anywhere else I've found.
Things I did poorly... I dunno what was going on with my bobbin, but I have some weird loopy things. Also, I accidentally did a zig-zag on my top stitch rather than straight stitch. Not the biggest mistake, but again, my bobbin did funky stuff. And, of course the back elastic. I just can't quite figure that stuff out. I have a hard time getting it where it needs to be... Oh, and I need to work on my snap placement.
Overall, I'm happy with it.